San Francisco Chinese economic and business association and other groups respond to the global movement of "An Era of Conscience"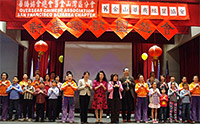 The handover ceremony on Presidents of Overseas Chinese Association in San Francisco Bay Area chapter and San Francisco Chinese economic and business association was held on March 15 at Chinese culture center in south bay. President Yu-Ping Wu and Mu-Ye Wu have devoted themselves to overseas Chinese for years and led associations into a new milestone. All guests were invited to join the ceremony. The festivities include a variety of booths full of traditional culture and energetic opening dance by youngsters from Tai Ji Men Qigong Academy. President Yu-Ping Wu and Mu-Ye Wu also led all guests to respond to the movement of "an era of conscience" during the handover ceremony.
On January 1 of 2014, the Federation of World Peace and Love (FOWPAL), Association of World Citizens (AWC), and Tai Ji Men Qigong Academy jointly promulgated the movement of "An Era of Conscience." For three months the movement has received feedbacks from 129 countries worldwide and 232 joint units afterwards. Many heads of states such as Queen of England, Prime Minister of British, Prime Minister of India, Prime Minister of Australia, President of Swiss, President of Germany, President of Latvia, and Prime Minister of Tanzania responded to the movement by sending their letters and blessings. CNN online news also prominently reported the effect that how the movement of "An Era of Conscience" encouraged people around world.
In the face of heightening international tension, risk being triggered at any moment and abnormal natural environment, Dr. Hong Tao-Tze, Zhang-men-ren of Tai Ji Men launched the movement of "An Era of Conscience", expecting that the movement will spread messages of goodness and promote good deeds to benefit people around the world and make conscience prevail.
The conscience choir composed of people from all walks of life made a performance on that day. They sang and hoped to evoke people's inner conscience and to safeguard the earth's sustainable development with kind intentions and good hearts. They invited all guests together to make the gesture of "An Era of Conscience" and expected everyone to guide their own conscience and create a world with love and peace. In addition, the youngsters from Tai Ji Men brought celestial horse dance full of passion and energy to spread love and peace. All guests were moved by the vigor and vitality spread by these young people and cheered and highly praised the youngsters.
Paul Fong, Representative of California, Jose Esteves, Mayor of Milpitas, Gilbert Wong, Mayor of Cupertino, Kansen Chu, councilmember of city of San Jose, Yu-Hua Wu, Director of Culture Center of T.E.C.O. in San Francisco (Sunnyvale), Dr. Ying Qiu Wang, Principal of Allence of Herguan University, University of East-West Medicine, and International Technological University, Xin Chang, Principal of Nine Star University and members of elected officials, overseas Chinese, women's group and the media all attended the ceremony. People were moved by the positive energy from the movement of "An Era of Conscience". That's what we need nowadays. "When reviewing and vote for the bill, I take into consideration my district and the world. I made a decision with conscience. An Era of Conscience is a good movement, so I support it", said by Fong. Karen, the member of Tai Ji Men Qigong Academy grew up in the United States. She realized the importance of conscience from practicing celestial horse dance and song of "An Era of Conscience". "Just like other teenagers, I am busy with my school life and rarely have a chance to think about the importance of conscience. However, through the practicing and understanding the meaning of the song, I realize that decisions made by people everyday are connected to everyone and the world as well", said by Karen.
A kind heart and good intentions generate the positive energies necessary to safeguard the world's sustainable future. A good start is the key to great success. A good word of conscience and a practical action from you will bring hope and light to the earth. The adoption of conscience-driven values will help create a peaceful new world. You are cordially invited to share your wish or a practical experience with us about "An Era of Conscience" through 100-300 words (Send to website: www.aneoc.org), a 30-second video or audio recording, or other presentable means such as comics or paintings. (Send to mail box: info.aneoc@gmail.com).