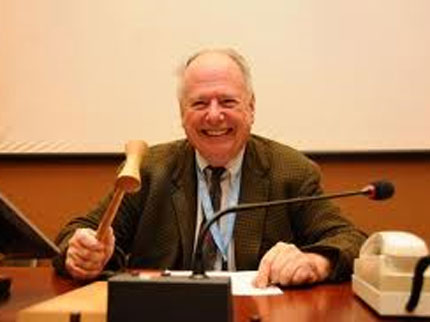 Action for World Citizenship - The Great Awakening
Association of World Citizens
President
Rene Wadlow
Today, a great awakening is taking form in the world. We are crossing a threshold between our past national awareness as we now move into an emerging world society. Therefore, we pledge our energies and resources of spirit to the preservation of the human habitat and to the infinite possibilities of human betterment in our time.
As Citizens of the World, we are heartened by advances during the past century of the rule of law, of democracy, of equality between women and men, and by efforts of solidarity to overcome poverty and hunger. Now we must take together a further step. The era into which we are moving can be called the Era of Conscience. As the first article of the Universal Declaration of Human Rights proclaimed by the United Nations General Assembly in 1948 states "All human beings are born free and equal in dignity and rights. They are endowed with reason and conscience and should act together towards one another in a spirit of brotherhood."
Worldwide, there is general agreement on the nature of reason as illustrated by the Age of Enlightenment, often called the Age of Reason.(1)
There is less agreement on the nature of conscience, which we can call the Voice within Silence. The message within Silence is brought forward consciously in a loving and compassionate way. Sometimes, we may hear the Voice within Silence as something very faint like a ripple on calm water. Conscience is an individual's inner ear for the voice which tells him what he should do and what should be left undone, what the pattern and purpose of life should be. When we hear a voice from the very depths, from the inmost recesses of our heart giving us a message to our mind, we accept the advice with joy and love. We know that this advice comes from the Voice within Silence.
We have a conscience to teach us what is right and wrong not only with others but in ourselves. We have a conscience so that we can recognize our wrong choices, our mistakes, our omissions, our inhumanities so that we will not grow accustomed to them or become insensitive. We have a conscience so that we will not let ourselves be lulled to sleep by our environment but will remain alert and sensitive to truth, justice and morality.
Thus, awake to the Voice within Silence, we move into the Era of Conscience;
(1) See The Story of Civilization, Volume VII: Will and Ariel Durant. The Age of Reason Begins (New York: Simon and Schuster, 1961, 730 pp.).
197
Country Response
Afghanistan

Albania

Algeria

Andorra

Angola

Anguilla

Antigua and Barbuda

Argentina

Armenia

Australia

Austria

Azerbaijan

Bahamas

Bahrain

Bangladesh

Barbados

Belarus

Belgium

Belize

Benin

Bhutan

Bolivia

Bosnia and Herzegovina

Botswana

Brazil

Brunei

Bulgaria

Burkina Faso

Burundi

Cambodia

Cameroon

Canada

Cape Verde

Central African Republic

Chad

Chile

China

Colombia

Comoros

Congo

Costa Rica

Croatia

Cuba

Cyprus

Czech Republic

Democratic Republic of the Congo

Denmark

Dominica

Dominican Republic

Ecuador

Egypt

El Salvador

Equatorial Guinea

Eritrea

Estonia

Ethiopia

Fiji

Finland

France

Gambia

Georgia

Germany

Ghana

Greece

Grenada

Guatemala

Guinea

Guinea-Bissau

Guyana

Haiti

Honduras

Hungary

Iceland

India

Indonesia

Iran

Iraq

Ireland

Israel

Italy

Ivory Coast

Jamaica

Japan

Jordan

Kazakhstan

Kenya

Kiribati

Kosovo

Kuwait

Kyrgyzstan

Laos

Latvia

Lebanon

Lesotho

Liberia

Libya

Liechtenstein

Lithuania

Luxembourg

Macedonia

Madagascar

Malawi

Malaysia

Maldives

Mali

Malta

Marshall Islands

Mauritania

Mauritius

Mexico

Micronesia

Moldova

Monaco

Mongolia

Montenegro

Morocco

Mozambique

Myanmar

Namibia

Nauru

Nepal

Netherlands

New Zealand

Nicaragua

Niger

Nigeria

North Korea

Norway

Oman

Pakistan

Palau

Palestine

Panama

Papua New Guinea

Paraguay

Peru

Philippines

Poland

Portugal

Puerto Rico

Qatar

Romania

Russia

Rwanda

Saint Lucia

Saint Vincent and The Grenadines

Samoa

San Marino

Sao Tome and Principe

Saudi Arabia

Senegal

Serbia

Seychelles

Sierra Leone

Singapore

Slovakia

Slovenia

Solomon Islands

Somalia

South Africa

South Korea

South Sudan

Spain

Sri Lanka

St. Christopher

Sudan

Suriname

Swaziland

Sweden

Switzerland

Syrian

Taiwan

Tajikistan

Tanzania

Thailand

Timor-Leste

Togo

Tonga

Trinidad and Tobago

Tunisia

Turkey

Turkmenistan

Tuvalu

Uganda

Ukraine

United Arab Emirates

United Kingdom

United States

Uruguay

Uzbekistan

Vanuatu

Vatican

Venezuela

Vietnam

Yemen

Zambia

Zimbabwe